Hedgehog Box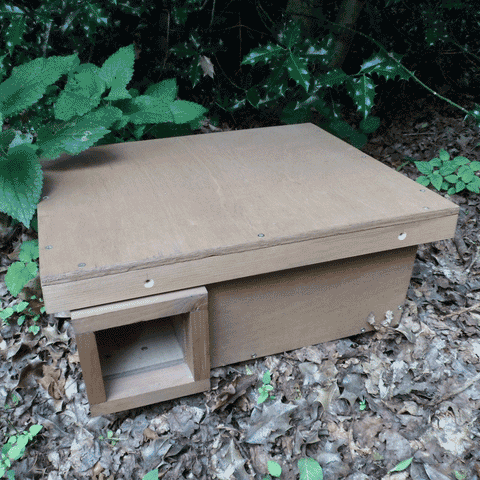 This nesting box is the optimum size for the needs of the Hedgehog. Best situated in a quiet corner of the garden, and covered with leaves. Removable lid for cleaning purposes.
In late March or early April, clean the box out. Firstly make sure the box is no longer being used by hedgehogs, you could put something small and light in the entrance, and check whether it gets pushed away overnight. If it doesn't, the hedgehog is probably not living there any more, but take care just in case.

Made in exterior ply. Size: 48cm W x 41cm D x 21cm H with an internal tunnel. Product Weight, 5.5kg
Position in a quiet spot in the garden, preferably against a wall a fence or under a bush.
Turn the entrance away from the north or north east, to avoid cold winter winds.
Put some leaves or hay in the box to act as bedding.
 Product Code: 0303
Bird Box Direct Wild Garden Bird Nest Boxes Direct From The Manufacturer. Free UK Delivery.